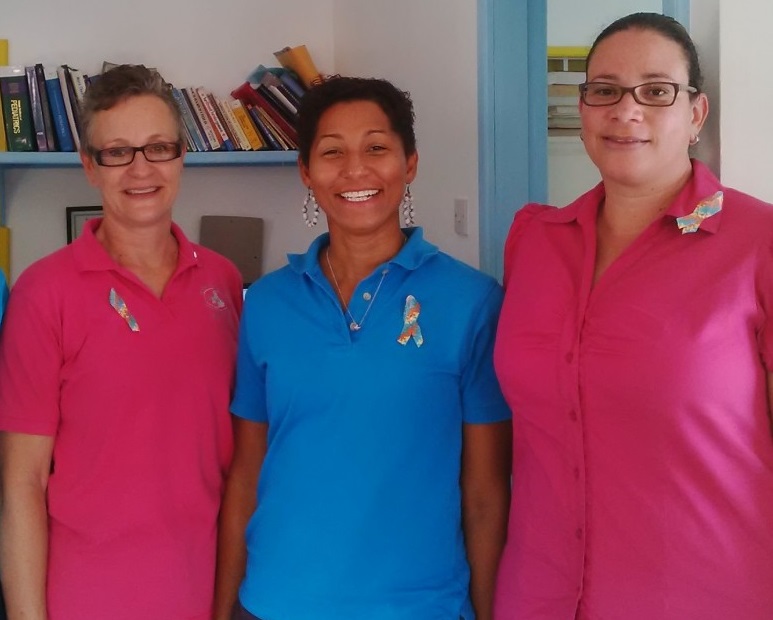 Elaine Clement, Aretha Cooper & Dr Kim Gardner
Kim Gardner MD, MsPH, FAAP: Director and Paediatrician
Paediatrics Specialisation. Vanderbilt University School of Medicine. Awarded in June 2006
M.D., Duke University School of Medicine  in Durham ,  North Carolina , USA  Awarded in May 2003
Master of Science in Public Health – Mother and Child Health Focus. University of North Carolina at Chapel Hill   awarded in May 2003
B.Sc., Biology Florida State University, Tallahassee Florida awarded in December 1998.
Registered with the St. Lucia Medical and Dental Council registration number 508.
Fellow of the American Academy of Paediatrics.
Employed as Director and Paediatrician with the Child Development and Guidance Centre since September 2009.
Aretha Cooper: Clinical Psychologist, M.Sc
As the most recent member of the CDGC family I feel truly privileged to contribute to the wonderful work of this small but mighty organization and to work and learn alongside such inspiring professionals.
I was born in St. Lucia and spent my formative years prior to university here. I completed my bachelor's degree in psychology at University College London in the UK and my master's degree in clinical psychology at Loyola College in Maryland, in the United States.
Currently my work primarily entails conducting psycho-educational assessments and initial assessments as part of our multidisciplinary team.  Prior to this post I worked as an assistant psychologist on a multidisciplinary therapy team within a special school and residential home for young people with epilepsy and related developmental disorders in the UK.  I have also worked as a social worker and a teacher at both the primary and secondary level.  I continue to be involved in education as my role at CDCG involves regular liaison with the Special Education Unit of the Ministry of Education in St. Lucia.
My journey with CDGC has just begun and it is with great optimism that I look upon the future of the children of St. Lucia and CDGC.
M.Sc., Clinical Psychology, Loyola College in Maryland, Baltimore, USA  Awarded in May 2007
B.Sc., Psychology, University College London, London, United Kingdom, Awarded in August 2002
Basic Floortime Provider from May 2013
Registered with the Allied Health Council (AHC) registration number 19780295.
Past member of the American Psychological Association (APA) and the British Psychological Society (BPS)
Employed as a psychologist with the Child Development and Guidance Centre since February 2011.
Elaine Clement: Paediatric Physiotherapist, Grad. Dip. Phys. MCSP
I am very happy to be back in St Lucia as part of the CDGC team.
I qualified in Liverpool, England with a Diploma in Physiotherapy (1984) and became a member of the Chartered Society of Physiotherapy.
I came to St Lucia in 1986 to do Voluntary Service Overseas (VSO) and after 2 years had made St Lucia my home.
I specialised in Paediatrics and have been involved with CDGC since 1999 when assessment and intervention was offered one day per week. At that time I was employed by the Ministry of Education in St Lucia to provide physiotherapy within the (then) 3 special schools on the island.
For the past 5 years I have worked in a specialist assessment and intervention centre in Exeter, England, working as part of a multidisciplinary team catering for children from birth to 5 years of age including Neonatal Physiotherapy.
I completed the post graduate 8 week Basic Bobath Training in 2004 and a further specialist Bobath Assessment and Intervention for Babies and Young children in 2011
Member of BABTT – British Association of Bobath Trained Therapists
Member of the Health Professions Council – UK
Member of the Association of Paediatric Chartered Physiotherapists – UK
Member of the Sensory Integration Network – UK
Qualified Bayley III developmental assessor – 2012