There have been significant achievements made regarding the overall health of children in St. Lucia over the past 20 years.  Improved pre-natal care, high immunisation rates and reduction of malnutrition are some of the major areas that have been given attention. However, it wasn't until the 1990's that comprehensive developmental screening of children at 6 weeks, 8 months, 3 to 5 years was instituted in the Health Centres across the nation.
Previously there were limited intervention services available and no paediatric therapists (e.g., speech/ language therapists, paediatric physiotherapists or occupational therapists) available for children who were identified through this screening process.
The need for further assessment and for the development and implementation of individualized intervention and treatment was the rationale for the initiative in 1997 to start the CDGC in St. Lucia. The Child Development and Guidance Center, (CDGC) was established in 1998.  It is registered as a Non-Profit Organization with the Registry of Companies & Intellectual Property, Comp.Nr. 2001/176 in St. Lucia.
 

>1998
Summer camps held (1998-2002)
- Aim to improve functional skills and quality of life
- Three weeks intensive therapy input (4hrs/day)
- Group of eight multidisabled children
- SLT/OT/Physio/Paediatrician
CDGC operated out of one room facility
- Developmental Assessment
- Home visits for housebound children and health
center with community Paediatricians
- Staff Team: Developmental Paediatricians &
Paediatric Physios & visiting Therapists
2005
CDGC establishes it's own building
- Same basic services
- Mainly physiotherapy available
- No more summer camps
- Monthly visits to special ed. schools
- Monthly outpatient clinic in south of island; children referred for hearing and vision screening
- Collaboration with Ministry of Education to assist with developmental     assessments for school age children.
2008-2013
2008 current paediatrician, employed part-time then in 2009 full-time
2011 appointment of master's level clinical psychologist part-time then full-time.
CDGC building extension funded by the Australian High Commission (25,000 $ US)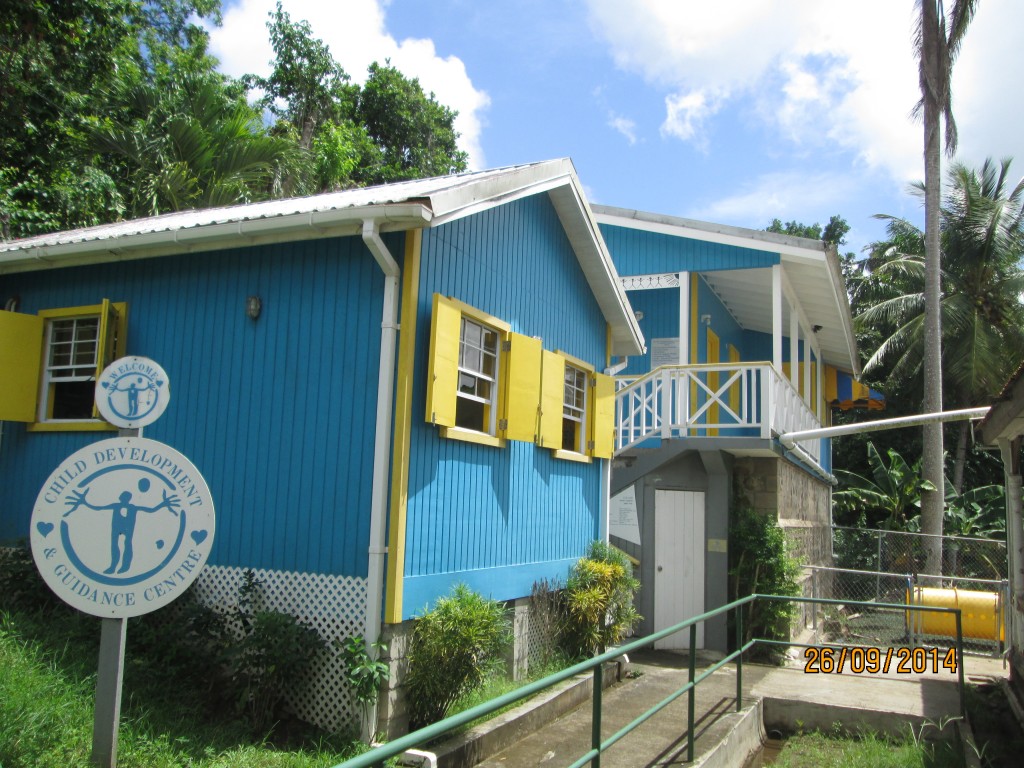 Current CDGC Building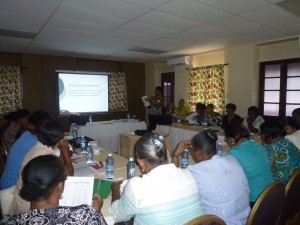 In 2012 during re-training of community nurses on developmental screening Dr.
Kim Gardner and Miss Aretha Cooper.
The Child Development and Guidance Centre continues to function as the only multi-disciplinary developmental assessment centre in St. Lucia.To date it has over 50 volunteer therapists providing thousands of hours of therapy.  Over 1,000 children have been assessed at CDGC over the years and hundreds more within the school system.  The referral numbers are increasing with 198 referrals in 2013 alone. This compares to the 2010 figure of an average of 80 children.